Everyone is excited to know about the marvellous features of a new generation of mobile operating systems of APPLE. This week, Apple unveiled IOS16 at its worldwide developer conference2022.
APPLE introduced iOS 16 with new features, as it supports iPhone 8 and all iPhone features, updated later; but some features take it to new excitement. iOS 16 carries a brand new lock screen, smarter focus mode, iCloud photo library, i-messages and many more. Here are the six best features of this upcoming operating system.
1. The personification of the new lock screen- 
     In the new updated version of the operating system, you can create a lock screen. You will be able to change the font colour of the screen, wallpapers, and even the clock font can also be changed according to your taste. You will be able to reposition photos and add widgets. There are animated wallpapers available too that bring weather animations to your lock screen.
2. Smarter Focus Mode-
  Focus Mode was first announced during the worldwide developer conference in 2021. Now, iOS 16 improves the experience with more features. In Ios 16, you can create a new lock screen tied to your focus mode, such as sleep, play or work etc., with their widgets. You can choose a set of tabs to show up in safari while working. You can hide your work when you're using any personal focus.
3. iMessages-
   iOS 16 will finally provide you feature to message editing. You will be able to edit, delete, and undo send the messages. You can edit a message for 15 minutes after sending it. It will also un send any message for up to 15 minutes after sending it. You can mark any message as unread when you don't have time to respond to it at that time. You can reply later. With the new features, you will be able to recover recently deleted messages for up to 30 days after deleting them.
4. Share Play-
   Share play is the new face time feature. You can chat while watching videos. You will be able to react to watching a show or listening to any music while on a call.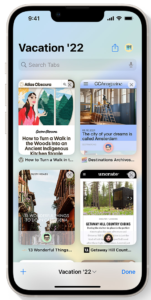 5. iCloud shared photo library-
  iOs 16 will carry smart sharing suggestions setup. To make it easier, you can share photos among family members by creating an iCloud photo library separately. Family members now will be able to sync, edit, and download the pictures. Everyone has an equal contribution to enjoying shared photos in memories.
6. Family sharing-
  The family sharing feature has been updated. It will grow with extra features. New parental controls within the family sharing feature introducing. Now, it will be allowing parents to set up their children's devices more conveniently. Parents can add age-appropriate restrictions. It is also better for quick location sharing.
7. APPLE Pay Later-
         In iOS16, the Apple Pay Later feature should be a welcome addition to everyone, who is struggling financially at any moment. The new feature lets every user split the purchase into four equal payments with zero interest and no fees over six weeks, built into Apple Wallet and will be available everywhere where Apple pay is accepted. Apple Pay Later is a short-term, interest-free credit card.