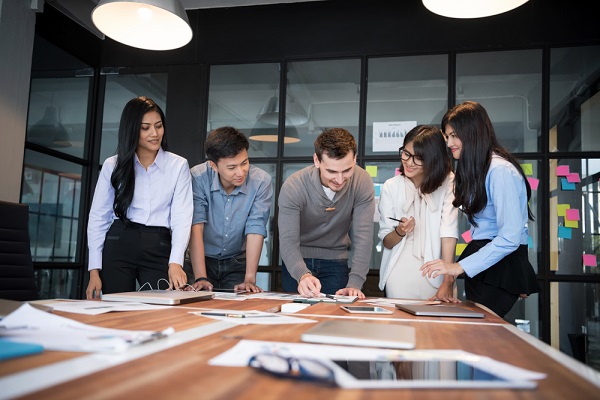 Being an entrepreneur is always prestigious, but not every individual can be an entrepreneur. Setting up a business often gets tricky and sometimes turns complicated during entrepreneurship. On top of that when you are in a competitive market, for instance, in the Malaysian business arena, things get even more challenging. However, setting up a business in Malaysia is relatively easy in comparison with other nearby nations. Many of them are successfully establishing their dream business in Malaysia. 
This article illustrated 7 key steps that focus on the topic of setting up a business in Malaysia. 
Mind setup and planning

 
The initial and foremost task of setting up a business in Malaysia is to set up the mind. Without a stable mind setup and solid planning, business buildup ends up to be fragile in the long term. Many companies collapse at the budding stage due to insufficient planning and owner's proper mind setup regarding that business. It is advisable to discuss and brainstorm ideas of the company set up with business consultants and experienced allies. Furthermore, a detailed study to revise and improve business planning can give a firm foundation to the new company.  
Deploying a company secretary

 
Although setting up the mind and planning doesn't fall under the formal business incorporation process, hiring a business secretary is mandatory and it falls under the corporate act of Malaysia. A company secretary will act as a liaison between the company and government authority bodies. Moreover, the hired secretary will handle the initial registration process, administrative, auditory and statutory activities in the new business.      
Company naming and incorporation form drafting

 
The next step of the company setup is providing a unique name for your company. You have to register a unique name for your company. For that, you need to collect the required form from SSM of Malaysia and fill up accordingly. You must propose a unique name for the company or else the request for a company name will be rejected. It must be noted that without naming your company will have no identification, hence company formation will remain incomplete.  SSM also provides AOA, MoA and other company incorporation forms. This needs to be filled up accordingly. At present days, these forms can be collected online from official Malaysian incorporation websites. These made drafting and submitting the required incorporation forms more convenient and less time-consuming. 
Opening a bank account

 
A company demands a proper business bank account in Malaysia. All company transections and paid-up capitals are carried out through bank correspondences. For this, a proper corporate bank account at the company's name must be opened.  Several governmental fees service charges and payment drafts are paid through a bank account when forming a company in Malaysia.  
Setting up premises' agreements

 
Setting up the premises for your company is the next recommended step of setting up a business in Malaysia. Proper address and location are mandatory by the authority of Malaysia. During the registration process, the surveyor team visits the address of the company several times to survey the office environment. Setting up a tenancy agreement for commercial space renting must be valid for at least a year from the company incorporation period. 
Collect additional licenses and certificates 

 
Other than company incorporation, VAT and tax certifications, Malaysian business setup demands several other licenses. For instance, Halal license in case of food manufacturing or culinary business. Signboard license, export-import license, medical and first aid license, chemical manufacturing license, etc. This authentication certifications and licenses are necessary for different companies to conduct businesses with authenticity in Malaysia. 
Work permit and business visa and insurances

 
Lastly, if you are a foreign investor moving forward to set up a business in Malaysia, you must appeal for the proper work permit and corporate visa from the embassy.  Without proper embassy permissions and paperwork, you cannot continue living at the same time carrying out the business in this nation. Moreover, you cannot hire employees for your company, unless cleared out all embassy formalities. It is also necessary to equip your newly formed company with proper insurance. This will protect your business from unwanted and unfortunate circumstances that might happen due to climates, or other man-made reasons.